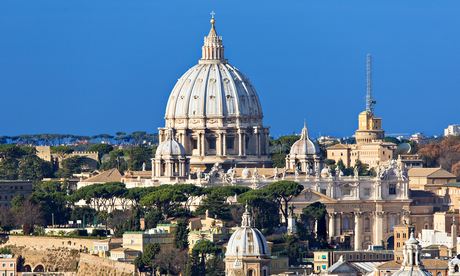 I first investigated the strange death of God's Banker, aka Roberto Calvi, the financier with links to the Vatican and Mafia, a decade ago. I am now working on the same subject as part of a new investigation and will be placing links to my findings on this Blog in due course.
Meantime, developments in the Vatican City today have spurred on those of us with a special interest in examining the details of the structure and business of the Roman Catholic's church's finances.
It was expected that the new Pontiff would change the whole ball game.
And yet today it came to pass that the new Pope Francis, greeted recently as a breath of fresh air and supposed cause of rising mass attendances etc, has decided to… change nothing.
Indeed the Vatican's Bank, or to give it its Sunday name The Institute for the Works of Religion (in Italian: Istituto per le Opere di Religione – IOR) has been given the kiss of life by the Pontiff following reports that he was considering closing it down permanently.
This was despite one of his major headaches since taking possession of the Ring of Fisherman has been the fate of Monsignor Nunzio Scarano, a prelate currently sitting in jail on charges of money laundering £17m from Switzerland into Italy for nefarious purposes. Known as 'Monsignor 500′ because he liked to travel light and carry only 500 Euro notes (you couldn't make this stuff up, honestly) the holy man now resident in the Queen of Heaven jail in Rome, held a senior position in the Administration of the Patrimony of the Holy See, another office with a holy name and a corrupt reputation. (It also holds international property assets and investments alone – including some in the UK – in excess of £570m). Scarano has been accused of everything from money laundering to blackmail and has had extensive dealings with the Vatican Bank in the past, an outfit with a long, nasty history. The APSA itself was set up with millions handed over by Mussolini in 1929 in payment for recognition of his fascist regime by the Vatican and investigations revealed its offshore and commercial holdings internationally are simply staggering in scale and complexity.
Of course, none of this is new.
The IOR was the Mafia's bank of choice back in its heyday of the 1980s when Pope John Paul II was too busy trying to topple Communism to be concerned with its running and management. Instead his right hand man the US cleric Archbishop Paul Marcinkus who assumed the role of the bank's president until c.1990. Travelling on a Vatican Diplomatic passport he was a virtual untouchable for criminal justice officers from any number of international jurisdictions.
I wrote this article in the Spring of 2004 and it caused something of a stir. I received emails, texts and calls from the most surprising and at times shady quarters imaginable. Individuals who I had dealt with and who I previously thought of as being fearless told me to 'watch my back'. One had pretty much gone into hiding himself and he urged me to do likewise. This was no joke, movie script or fictional book plot he said, so take steps to look out for your security he urged. My links with Carlo Calvi seemed to attract more interest than I ever anticipated and I was genuinely taken aback by the scale and focus of it. In time it fizzled out but it's a period of my career I have never forgotten. Enough time has now passed and enough new material has come to my attention due to the insight of others that I now feel confident safely revisiting it.
There was one more Post Script however.
After this article was published I once more tracked down Marcinkus to his bolt-hole in Sun City, Arizona. His housekeeper said she didn't know him when I first called – her standard reply. I tried again and finally managed to get through to Marcinkus, he breathed heavily down the line as I introduced myself and asked him how he felt being a wanted man in Europe and also about his response over allegations connecting him to the murder of Roberto Calvi, the so-called God's Banker found hung under London's Blackfriar's Bridge at 7.30 am on Friday June 18th 1982 and featured as a fictional character in The Godfather: Part Three. I even offered to send him a copy of this article as a reference.
'I've nothing to say'… commented the former aide to Pope John Paul II and so-called Chicago tough-guy before the line went dead.
He died 18 months later.